Get Ridge Trail in the palm of your hands! OuterSpatial is the only mobile app with the full complement of Ridge Trail sections, descriptions, maps, and more. Once downloaded click the Ridge Trail logo in the app.
MOBILE TRAIL APP

Download for iOS
Download for Android

Trail Tracker.
The Trail Tracker tool allows you to track mileage, elevation gain, gaps in the Trail, and other notes.
Download the tracker
Spotlight Stories.
Stories of people who have hit the trail, hard.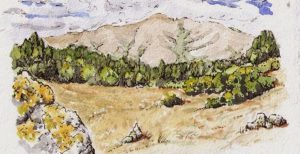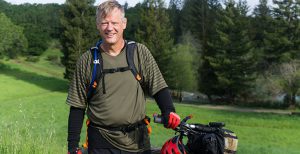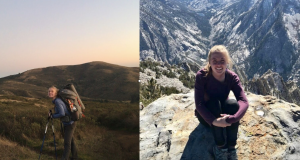 Gear Essentials.
Suggested items to help you on your way.
Overnight essentials for backpacking, cycling, and horseback.
Permits:
Navigation:
Map
Compass
GPS (optional)
Altimeter (optional)
Sun protection:
Sunscreen
Lip balm
Sunglasses
Sun-shielding hat
Insulation:
Jacket/Vest
Hat, cap, skullcap, balaclava or headband
Illumination:
Headlamp/flashlight
Extra batteries
Safety:
Trip itinerary left with friend and under car seat
Whistle
Tools:
Knife or multi-tool
Duct tape strips
Nutrition:
Meals
Snacks
Extra day's supply of food
Emergency shelter:
Tent, tarp, bivy or reflective blanket
Sleeping:
Sleeping bag
Stuff stack
Sleeping Pad
Cooking:
Stove
Fuel
Cookset/pot
Bowl/Utensils/Cup
Personal Items:
Camera
Route description or Guidebook
Small amount of cash
Toothbrush & toiletry kit
Quick-dry towel
Camera/Phone
Warm Weather Clothing:
Wicking T-shirt (synthetic or wool)
Wicking underwear
Quick-drying pants or shorts
Long-sleeve shirt (for sun, bugs)
Bandana or Buff
Cool Weather Clothing:
Wicking long-sleeve T-shirt
Wicking long underwear (good sleepwear)
Gloves or mittens
Rainwear (jacket, pants)
Fleece jacket or vest
Backpacking Specific
Gear:
Special clothes:
Hiking Boots or hiking shoes suited to terrain
Socks (synthetic or wool) plus spares
Cycling Specific
Special clothes:
Helmet, bike gloves, cycling shorts, windshell, cycling socks & shoes
Tools:
Multi tool, tire levers, spare tube, patch kit, bicycle pump, (tire boot, plugs if tubeless), zip ties, spare bolts, (stem, chainring bolt, brake and shoe) quick link for chain
Personal:
Chamois butter packets
Helmet cam
Horseback Specific
Special clothes:
Helmet, gloves, riding boots, long pants
For your horse:
Hoof pick, Currying equipment, Treats, Equine first aid kit, Fly spray, Emergency boot, Shipping boots or leg wraps, Copy of health papers
Tack:
Halter and lead, Bridle, Saddle and Pad, Cinch or girth, Saddlebag, Portable Paddock
Trail Running (Single day)
Light weight Backpack
hydration pack
Trail running shoes suited to terrain
Socks (synthetic or wool)
GU gel, bars
Day Hike
Light weight Backpack
hydration pack or water bottles
Hiking Boots or hiking shoes suited to terrain
Socks (synthetic or wool)
Trail snacks (GU gel, bars, trail mix)