Take BART to the new Berryessa station to get on the Ridge Trail
Imagine getting off a BART train in an urban center and immediately stepping onto a trail that leads to sweeping views on the ridgelines overlooking San José. Well, this is now a reality with the opening of the Berryessa BART station in North San José on June 13, 2020.
"San José is a leader in the integration of trails in the urban environment. The new Berryessa Station offers a regional gateway for residents to travel through our dense urban city to reach Alum Rock Park and the wild, natural California open spaces it offers." – Yves Zsutty, City of San José Trail Manager, Parks, Recreation and Neighborhood Services
Alongside the BART opening, the Ridge Trail will be hosting a Virtual Dedication of .7 miles of new trail.  This will close a critical trail gap from the urban Penitencia Creek Trail–through rugged Alum Rock Park to the serpentine landscape of Sierra Vista Open Space Preserve–connecting an additional 2,300 acres of protected open space.
The Valley Transportation Authority recognizes "the importance of providing BARTable transit to trails experiences and improving county-wide mobility and enhancing safety for bicyclists and pedestrians." With an estimated daily ridership of 12,000 and nearly 30,000 residents within a ½ mile radius, this project has the potential to reach hundreds of thousands of people each year, connecting the public to the outstanding network of trails, parks, and open space in Santa Clara County.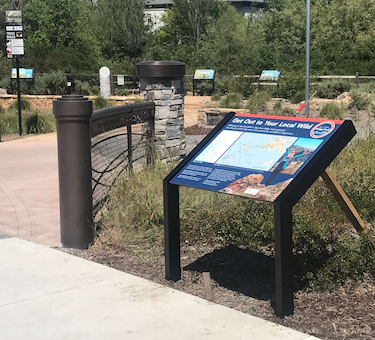 "I am thrilled with the opening of the Ridge Trail connection located at the new Berryessa BART station," says Mayor Sam Liccardo. "I'd like to thank the City of San Jose's Trail Program and the Bay Area Ridge Trail for their work on this project, which will allow people from all over the Bay Area to access San Jose's beautiful trails and parks."
Explore this part of the Ridge Trail and you'll first reach the 163-acre Penitencia Creek Gardens featuring a nature center and picnic grounds. After a very small gap, the Ridge Trail continues through historic Alum Rock Park, nestled in a steep canyon in the foothills of the Diablo Range – a natural beauty great for hiking, bicycling, horseback riding and picnicking. The Sierra Vista preserve in the Eastern foothills of Santa Clara County offers sweeping views of the Valley and the opportunity to stroll through diverse landscapes including oak woodlands, rolling grassland, and chaparral communities.
With funding from the Santa Clara Valley Open Space Authority's Urban Open Space Program, Rails to Trails, and Ridge Trail donors (thank you!), we've worked with the Valley Transportation Authority and the City of San José's Trail Program to create:
Wayfinding signs around the station, leading people to local parks (and beyond to the ridge) via the Ridge Trail
Interpretive panels that include an overview map and highlight the benefits of trails and transportation
Hosted trail outings (offered in Spanish and English) to introduce people to the Ridge Trail
More info: