The Ridge Trail began over 30 years ago when we dedicated our first miles in 1989. Now, we want you to join us as we dedicate the 400th mile!
Imagine stepping onto a trail in San José, traveling around the entire San Francisco Bay, then arriving back at that same trailhead without ever taking a step off the trail. That is the vision of the Ridge Trail: epic, conitnuous adventures for hikers, runners, mountain bikers, equestrians and nature lovers alike, accessible from your own backyard.
Since 1989, we've worked to fund, build, and dedicate over 390 miles of Ridge Trail. It took the efforts of countless volunteers, donors, partners and staff to get to this point. As we approach 400 miles, we want you to fall in love with this bold vision just like we have, and join us in connecting the last 150 miles.
In the early days we quickly connected trail segments and within the first 6 years, the Ridge Trail was already 200 miles long. As the "low hanging fruit" was plucked, however, progress slowed and now the more difficult trail gaps to close remain. That's where you come in.
Help turn the vision of a fully-connected, 550-mile Ridge Trail into a reality!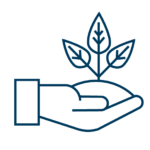 ACTION
Take action today by becoming a Bay Area Ridge Trail Member. Your membership fee will support the work we do each and every day to build and connect the Ridge Trail, and to make the Ridge Trail more accessible to more people around the Bay Area.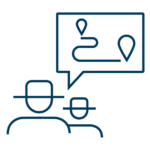 ADVOCACY
Advocate for the Ridge Trail by voting for bond measures, supporting trail projects, and speaking to your local representatives. Sign up for our Trail Advocates email list and we'll send you notifications for you to support the trail.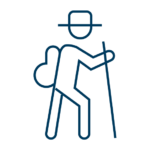 ADVENTURE
Get outside and explore! Find maps, trail lists, and other tools to plan your adventures here. And join us for special events and outings, including upcoming Ridge Trail dedications! Stay in the loop with our monthly
e-newsletter.
2021 Trail Projects: The Path to 400 Miles
It's not certain which trail will be the one to get us to 400 miles, but here are some of the 2021 trail projects that are helping us get there!
Completed Trail Dedications
These projects were completed in early 2021 and are bringing us closer to 400.
Ed Levin County Park (Santa Clara County) - 2.6 miles
Green Valley Road (Solano County) - 0.1 miles
Active Trail Projects
These projects are in the works and while nothing in life is guaranteed, we're hopeful these trails will be part of the Ridge Trail soon!
Pacific Union College to Moore Creek Park, "Dan's Wild Ride" (Napa County) - 3.7  miles
El Sereno Open Space Preserve (Santa Clara County) - 3.5 miles
Groundbreakings
Finally, these projects are just on the horizon, with groundbreakings expected to happen in 2022.
Garin Regional Park to Niles Canyon (Alameda County) - 7 miles
Southern Skyline Ridge Trail Extension (San Mateo County) - 6 miles
Upcoming Events
Help us celebrate 400 miles by joining us for our upcoming events! Links and more info coming soon.
Ridge Trail Challenge - happening now
OpenRoad w/Doug McConnell Viewing party (watch the episode here) - July 18th
Ridge Trail Day - November
Upcoming Trail Dedications - TBD
And more events to celebrate 400 miles (in person!)