August 31 – September 5
Join us at the 20th Anniversary East Bay Hills Trails Benefit over Labor Day Weekend. Our 5-day hike is held annually in conjunction with our concurrent 6-day equestrian ride, and *new this year* a 2-day run! Hikers and riders are mostly on different trails during the day, but share campsites, meals, stories & camaraderie, and enjoy entertainment each evening. Runners can join for a run only on Saturday & Sunday, or choose to join in the camping fun, too!
Register here:
Registration Fees: 
$100/Day with a discount for those who register for all days*

Runners can join for the fun run only for just $65 a day*

Youth Hikers (under 18) can join with an adult participant at $40/Day*

Visitors can join you for "Just Dinner" in camp for $20/night

*Enjoy early-bird pricing through July 14th; late registration pricing begins Aug. 16th
Benefits Local Trails
By participating in this event you help trails! Thanks to the efforts of numerous and tireless volunteers, the East Bay Hills Trails Benefit has raised over $360,000 for the construction, maintenance, and restoration of the Ridge Trail and other East Bay trails. This event is co- sponsored by and benefits the Bay Area Ridge Trail, Volunteers for Outdoor California, the Tilden-Wildcat Horsemen's Association and the Metropolitan Horsemen's Association, and is supported by a generous matching grant from Bay Area Barns and Trails.
Event Details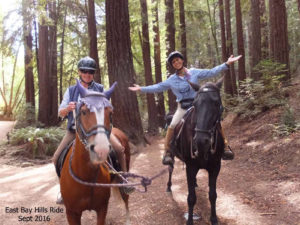 Top Ten Reasons to experience the legendary trip this year – for one day or as many as you like:
1 – Make new friends on the trail — and make friends with new trails!
2 – Only $100/day for 3 meals, trails and camping — our volunteers enable most of the fees to support local trails! Expert leaders and hiking guides will make sure you have an unforgettable experience.
3 – Win in Saturday's raffle — prizes include outdoor gear from REI, Camelbak and more!
4 – Extraordinary evening entertainment!
5 – It's local — who says you need to travel hundreds of miles for an unforgettable camping experience!
6 – Great food! Hot camp-cooked breakfast every morning, hearty handmade sandwiches for lunch on the trail, delicious gourmet dinners — with vegetarian options at all meals.
7 – Hikers carry just a daypack — we move your tent, sleeping bag, and gear so you don't have to!
8 – Forage for wild berries and plums on the second longest continuous section of Ridge Trail from Richmond to Castro Valley.
9 – Spectacular views of the Bay, the Sierras, and Mt. Diablo. Get lucky and see the Farallon Islands!
10 – Camp out under sparkling skies — AND view the stars from the largest public telescopes west of the Mississippi at Chabot Observatory!