Have you walked past a shiny new Ridge Trail sign lately? Through the generous donation of four sets of cordless hand drills and drill bit kits from Bosch, many signs along the East Bay segments of the Ridge Trail have been updated by our wonderful volunteers and staff!

Ridge Trail signs need to be updated once in a while due to a number of factors: natural wear and tear happens over time, trail routes and access evolve, and in 2017 the Ridge Trail underwent a brand revamp, meaning some trail signs may still have the old branding.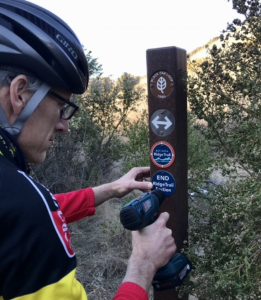 Luckily for the Ridge Trail, past board member and active trail advocate, Austin McInerny, had a relationship with Bosch through their electric bike program and connected us. Bosch generously donated four tool sets to help us update and install new trail signs in the East Bay and beyond. We are so appreciative to Bosch and our other sponsors for their generous corporate donations that aid the improvement of the Ridge Trail.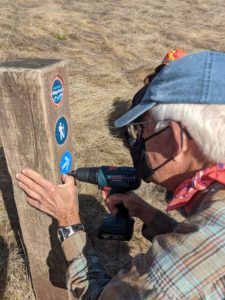 Bosch's donation helped the Ridge Trail equip dedicated volunteers Phil Bellman, Austin McInerny, and Ross Heitkamp, along with staff members, to complete the East Bay sign updates in the field. The East Bay has the second longest continuous stretch of the Ridge Trail at 45 miles long, and sign updates along these segments would be impossible without the help of our wonderful volunteers. A few East Bay Ridge Trail segments include Anthony Chabot Regional Park, Crockett Hills Regional Park, and Pinole Valley Watershed. This work was also made possible through coordination with our East Bay partners, East Bay Regional Park District, East Bay Municipal Utilities District, and John Muir Land Trust.

We are very excited to have the Ridge Trail signs updated in the East Bay, and look forward to getting the rest of our signs around the entire trail refreshed and up-to-date. If you see our staff or volunteers out on the trail working on signs, make sure to say hello! Thank you again to Bosch for their donation, and to our dedicated volunteers.

Want to help with our signs?
If you see a Ridge Trail sign that appears out of date with our old branding, needs replacement due to damage, or if you see a spot along our trails that could use more/better signs, let us know!
You can fill out a form to report a sign issue HERE.