Have you ever wondered what kinds of insects, plants, or animals live in your nearest park? Or even in your own backyard? That's exactly what you can find out by participating in a BioBlitz!
What's a BioBlitz?
A "BioBlitz" is a period of time ("blitz") where people go out and document as many different living things ("bio") as possible in a specific area, like a park or open space preserve. You could do this as a group through events hosted by BioBlitz Club and Keep Coyote Creek Beautiful, or on your own.
How do you do a BioBlitz?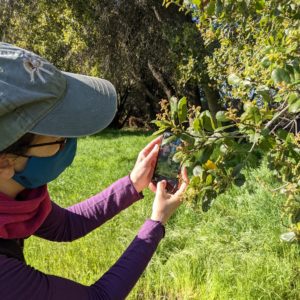 One of the easiest ways to do a BioBlitz is by using the iNaturalist app. With this app you can take photos of plants, animals, and insects or record audio of birds and frogs, and using artificial intelligence (AI) the app will suggest species that may match what you see and hear. If the AI can't find a good match, other iNaturalist users can help you identify the species.
Have there been BioBlitz events on the Ridge Trail?
Yes! We recently hosted a BioBlitz in March along the Penitencia Creek Ridge Trail in San José. At Penitencia Creek County Park, 32 people recorded 287 observations of living things. 124 different species were found, just in one park! Some fantastic finds included hummingbirds, mushrooms, wildflowers, and California ground squirrels. You can see all the observations here. We had so much fun and hope to host more BioBlitzes in the future!
Resources to help you do your own BioBlitz along the Ridge Trail
If you weren't able to join us for the BioBlitz in March, don't fret! Below are videos, maps and brochures to help you explore nature along the Penitencia Creek Ridge Trail anytime. You don't have to wait for us to do your very own BioBlitz on your favorite Ridge Trail. Check out these resources, download the iNaturalist app, and get out there!
Videos: BioBlitz Tips for Penitencia Creek County Park and Fun Spots Along the Penitencia Creek Ridge Trail
Subtítulos disponibles en español. Có phụ đề tiếng Việt.
Species of Penitencia Creek County Park Brochure
Penitencia Creek Ridge Trail Map and Points of Interest
Thank you to our BioBlitz partners: