A self-guided twist on a classic Ridge Trail event!

Ridge to Bridges 2021 Has Ended.
Almost 300 participants enjoyed exploring the Ridge Trail, and raised over $40,000! Thank you to everyone who signed up, fundraised and donated, and we hope you'll join us again next year!
April – June 2021
Marin Headlands | Carquinez Strait | Mission Peak Area | Peninsula Skyline
Choose your own DIY adventure! 4 Trail Options, 4 Locations, 4 Ways to Hit the Trail
What is Ridge to Bridges?
Ridge to Bridges 2021 is a self-guided adventure for hikers, runners, mountain bikers, and equestrians. Choose from curated trail options in 4 locations with 4 distances, from moderate to challenging. Complete your outings on your own schedule and at your own pace – grab the map, or app, and head outdoors! The Ridge Trail supplies you with trail maps, tips, signature swag and virtual support. Complete one trip, or challenge yourself to complete them all before June 5th! Show off your team spirit at our Pep Rally on April 21 and a Finisher Party in June.
Go the extra mile and fundraise for the Ridge Trail, solo or with a team!
Explore! Fundraise! Win Prizes!
It's a great way to support the Ridge Trail while having a wonderful time outside with friends, old and new.
How does it work?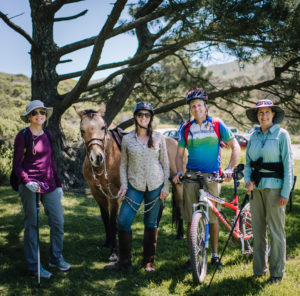 Ridge to Bridges 2021 features trail options in four different locations around the Bay Area, each with a trail over or view of a bridge (as big as the Golden Gate, or as small as a foot bridge).
1. Register.
Standard registration at $39 includes digital maps and raffle entry or upgrade to VIP at $99 which includes RT swag, raffle entry and optional printed maps.
2. Pick your Route.
Curated Ridge Trail trips in four distinct Bay Area locations: North, South, East and West. Details below.
3. Get out on the Trail.
Choose among 4 distances at each location for your self-guided adventure. Mix and match by completing as many trail trips as you'd like, in as many of the 4 locations and using as many modes as you want – hike, run, bike or ride!
4. Share + Celebrate.
Earn badges as you record your results on the event website, and share your accomplishments with others! Join our virtual opening Pep Rally on April 21 and Finisher Party in June. Remember to share on social media. #RidgeToBridges2021
5. Fundraise + Win Prizes.
An optional, but fun, way to participate is by fundraising. Fundraise through the event website and earn prizes along the way. Boost the excitement by fundraising as part of a team!
Where are the trail locations?
We've mapped out multiple trip options in each of the 4 locations with trail lengths varying from 8 – 20 miles. This is a great chance to explore new areas of the Ridge Trail or check new sections off the list for Ridge Trail Circumnavigators. Make it a real challenge and pick a trail option (or 2) in each location:
Marin Headlands in Marin County
Carquinez Strait region in Contra Costa and Solano Counties
Mission Peak in Alameda and Santa Clara Counties
Peninsula Skyline area in southern San Mateo County
Digital maps and online app-versions (Outerspatial and AllTrails) are available for those who register for the event. VIP registrants can opt for printed maps to be mailed out with their swag bag.
Dates:
April 1 – Early bird registration (for Ridge Trail members)
April 12 – General registration is NOW OPEN
April 21 – Kick-off Pep Rally (virtual)
June 5 – Last day of Ridge to Bridges and National Trails Day
June 8 – Finisher Party (virtual)
Are there prizes?
Heck yeah! There are a few different raffle prizes you could win, just for signing up! There are also special bonus prizes for fundraising – the more you raise, the more prizes you earn!
Can I ask friends to support me?
Of course! Every year, the Ridge to Bridge event offers the chance for members to fundraise amongst their friends and family. This year is no different. It's time to show your TRAIL LOVE to the Ridge Trail. Consider putting together a team to raise even more!